The Big Deal about Sustainability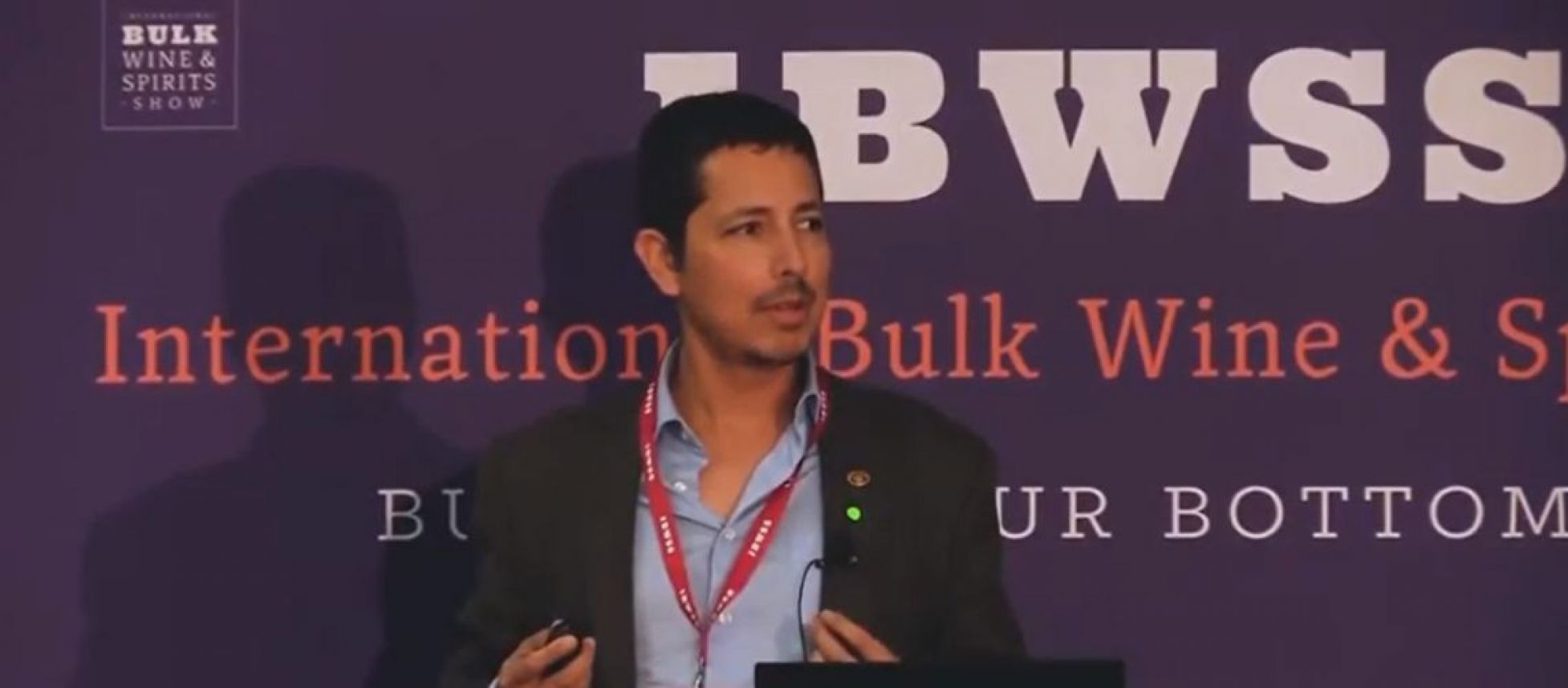 Sustainable Solutions that are actually profitable.
19/01/2023
The solar panel looks over at the wind turbine and asks, "What do you think about renewable energy?" The wind turbine replies, "I'm a big fan!" With that joke and a few laughs from the audience, Martin Reyes MW kicks off his talk about sustainability at the IBWS Show organized by Beverage Trade Network.
Everyone's been talking about sustainability in the last few years, but what does it really involve?
In this session at the International Bulk Wine & Spirits Show held in San Francisco in 2021, Martin discusses why sustainability is important, and how your winery, brewery, or distillery can start prioritizing it.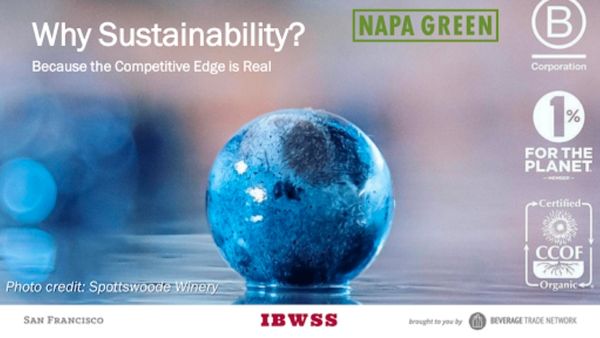 A first-generation American, Martin is the first Master of Wine of Mexican descent. With a prolific career as a buyer, importer, educator, speaker, judge, writer, and winemaker, he has held influential roles in many sectors of the industry. Martin's wine story began with an over-indulgent dinner while studying in Paris as a Stanford undergraduate and, by 2003, he was stocking shelves at K&L Wine Merchants in California. After managing St. Helena Wine Center for several years, Martin was hired as the principal buyer & importer for prominent wine club programs for partners such as The New York Times, Food & Wine Magazine, and Williams-Sonoma. In 2015, he was named one of Wine Enthusiast's Top Forty under Forty Tastemakers.
Let's dive into Martin Reyes, MW's talk, and discover the key aspects of sustainability. As a winery, brewery, or distillery, how sustainable are you, and what steps can you take in this direction?
First and foremost, it is essential to understand, "Why sustainability?"
For 10,000 years the climatic conditions on earth were stable, out of which sprung civilization. Given the variations in temperatures and conditions occurring worldwide ever more frequently now, even 10-15 degree temperature swings could wreak havoc on crops and vineyards everywhere. Therefore, it is important more now than ever, to take a look at becoming more sustainable to bring about a positive change in the climate.
Martin mentions that rather than creating fear to change this scenario, it is important for us to look at optimism and love - for our planet, for our communities, and for our businesses. That is an excellent motivator for people to bring about change. It puts businesses in a unique position to bring about a change, but to do that it needs to make economic sense for them.
Before we begin to talk about implementing sustainability, let us understand what sustainability actually means in tangible or actionable aspects.
Sustainability involves the 3Ps: People, Planet, and Profit.
When thinking about sustainability, we need to look after communities, the planet, and the profit of our business because the survival of the business is paramount to implementing sustainable practices. If being sustainable doesn't count towards the bottom line of the business, it will not be something that businesses can actualize, no matter how strong their altruistic intentions are.
Most sustainability practices and certifications come down to these 6 principles:

Question:
Does being organic, biodynamic, or natural mean being sustainable, or do they even trump being sustainable?
These factors definitely contribute to a vineyard being sustainable but it accounts for maybe 17% of the impact of your carbon footprint. Making a wine organic, biodynamic, or natural is more to do with its farming methods, removing synthetics from the vineyard, and pesticide reduction. Apart from farming, there are many more factors that affect a vineyard's carbon footprint as illustrated in the diagram below.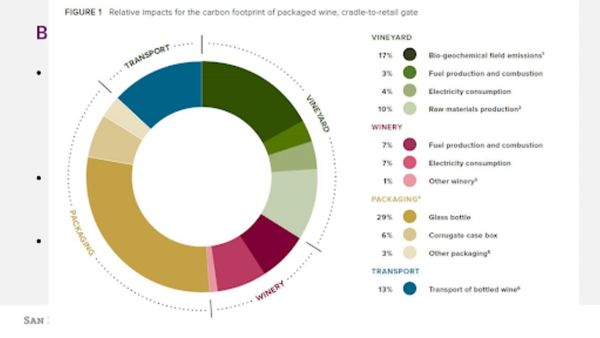 In the past, the word sustainability has been overused and misused (greenwashing) therefore diluting its meaning. Today, the organizations and boards who are responsible for sustainability standards for businesses are making sure that there are proper regulations around this and that they are enforced correctly.
Customers in today's age are looking for sustainable products, and the beverage industry is currently underselling itself in this space.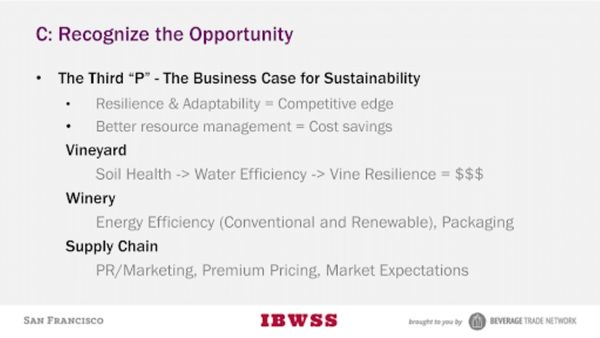 Martin mentions that there is an opportunity for businesses to implement sustainability. He stresses that "doing the right thing won't matter if you go out of business doing it." There is a strong case for implementing sustainability which will also give them a financial edge.
For example for vineyards, better soil health makes the soil retain more water, leading to better water efficiency and more vine resilience, therefore, saving vineyards money in the process.
For a winery that produces about 150 cases of wine, the average energy costs are 71 cents per gallon. Out of this let's consider one aspect of a winery's energy cost, say refrigeration, which is the biggest sink of their energy costs. A winery may use glycol tank insulation by installing a variable frequency drive in their glycol pumps and get an ROI of 16-18 months. Carrying out regular machine maintenance and checking the scaling on evaporative condensers increases the equipment's efficiency and life span.
[[relatedPurchasesItems-49]]
Investing in audits, like energy audits might uncover that a winery's equipment is working overtime at night. The water temperature that is needed for sanitization is 160 to 180 but that is not needed at all times, so the temperature can be dropped down to 120-140 at other times saving thousands of dollars in natural gas usage.
Energy audits may detail actionable steps that save your winery, brewery, or distillery up to 20% on energy bills. This could translate to thousands of dollars in energy bill savings for a winery.
It is important to take steps to become energy efficient first and then invest in renewable energy sources for your reduced and actual energy requirements with solar panels and the like.
Packaging:
Packaging is a major aspect where wasted dollars and materials can be diminished.
Wineries may choose to not use capsules, therefore reducing their costs and overall wastage.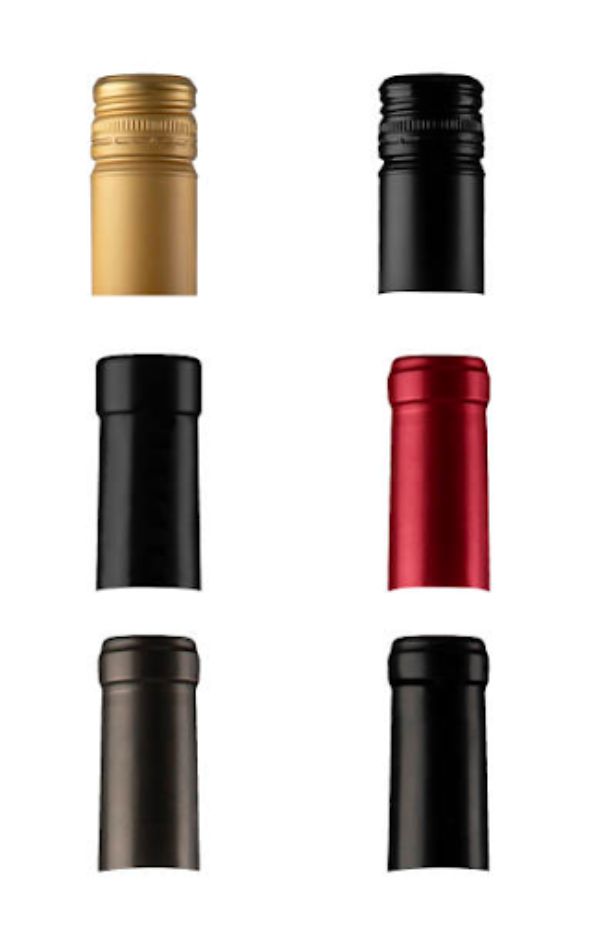 Image: Wine capsules. Credit: Istock
Wineries may also choose to use lighter glass bottles. The Crimson Wine Group USA dropped its average bottle weight by 13% to 505 g/750ml. This resulted in them reducing the number of trucks they used by 30% and storing 30% more cases in their warehouses as mentioned in Porto Protocol.
Martin mentions the LCBO Lightweight Glass Program which encourages wineries to have lighter bottles and charges wineries with more than the mentioned maximum weight a surcharge of $1 per bottle.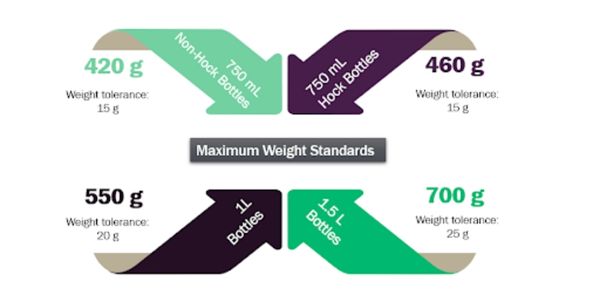 There are marketers that are looking for products that can differentiate themselves by being truly sustainable. Customers are looking for sustainable products that are more clearly identifiable. The brand loyalty gained by being sustainable itself leads to increased sales and profits.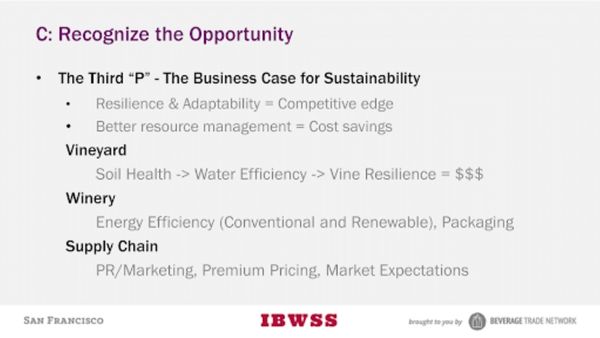 Martin mentions a McKinsey & Company report that details how diversity and social equity help companies thrive globally. Having diverse views, experiences, and cultures as part of your company makes it more nimble and resilient.
If you're ready to take the next step in sustainability, check out these resources.
NapaGreen.org | SIPCertified | CSWA | LIVE (OR)
On a closing note, Martin mentions to
Remember the Three Whys
1) Remember what's at stake
2) Remember to be a Climate Optimist, protecting what you love
3) Remember Sustainable Solutions can actually be profitable
Q&A with the Audience
A great, practical question from the audience was:
Stepping into sustainability seems like a daunting task, if there was one task that I could begin with that would give me the quickest ROI, what would you suggest that would be?
Martin's Answer: Energy audit, and in that focus on refrigeration. That will pay for itself right away. And when you are done with that, you would want to do a water audit as that translates itself to energy savings and money savings as well. So, those are the first few things I would do.