Four Feathers Wine Services: Producer and Providers of Premium Wines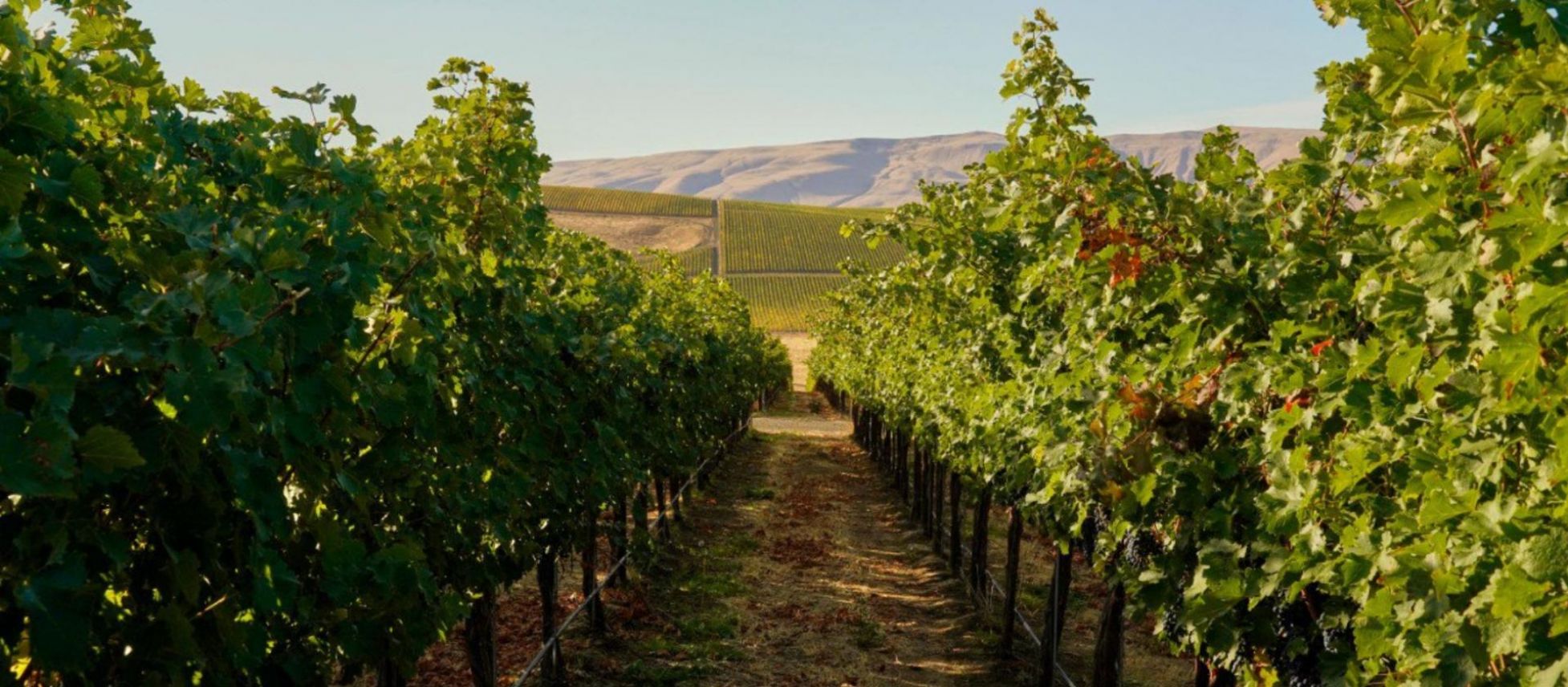 Four Feathers Wine Services is a vertically integrated, family-owned winemaking business that produces and delivers unique premium wines for nearly 300 clients nationwide while farming 3,500 acres of wine grapes.
30/09/2022
The company offers best-in-class custom winemaking, alcoholic beverage production, and packaging services from its state-of-the-art facilities in Prosser, Washington, that assist clients in establishing and growing their brands.
Four Feathers manages the custom winemaking process from the vine to the bottle. Depending on a customer's requirements, Four Feathers provides a broad range of services in addition to turnkey winemaking, including wine refinement, beverage research and development, packaging, compliance support, and logistical support.
Overview
At its core, Four Feathers Wine Services is a custom winemaking company for clients that purchase bulk quantities of wine.
The winery is located in the heart of Washington State's burgeoning wine country. In addition to the industry's most advanced winemaking technology and state-of-the-art labs, Four Feathers has its own bottling and canning lines, case goods storage, and 3 million gallons of tank storage capacity.
Four Feathers collaborates closely with many of the world's top coopers, including Dargaud & Jaegle, Demptos, Tonnellerie, and TN Coopers, among others. These partnerships enable the Four Feathers team to properly match vineyards and wines with select barrels for aging, enabling clients to dial in their wines to match the vision for the programs.
Four Feathers is one of the first large wine companies to embrace sustainability under the guidance of Sustainable WA, Washington's state's first certified sustainability program.
Four Feathers Wine offers the following services.
- Bulk Wine
Custom winemaking for bulk wine clients is the heart of the business at Four Feathers. The company can produce wine in small lots or at scale for customers across the entire spectrum of the wine industry, from well-known global brands to smaller, entrepreneurial wineries and négociants.
- Beverage Innovation
Alternative beverages are becoming increasingly popular with consumers, including flavored wine-based drinks and a wide range of non-wine-based goods such as ciders and non-alcoholic drinks.
Four Feathers has a dedicated team focused on beverage innovation to help customers explore new products that address the growing market for calorie-conscious, low-alcohol-conscious and environmentally friendly products.
- Wine Refinement
Four Feathers offers some of the most sophisticated wine refinement services in the industry.
Its Advanced Targeted Filtration System (ATF), one of the few in North America, identifies and eliminates several common issues that can arise during the winemaking process, including acetic acid and ethyl acetate, smoke taint, 4-EP/ 4-EG taints associated with Brettanomyces, frost taint, water dilution, and other molecular taints. Additionally, this system uses ultrafiltration (UF), which enables the concentration of color, sugar, and tannin in juice and wine.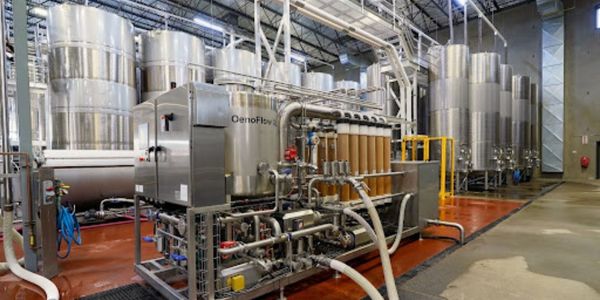 ATF enables precise control of alcohol levels, creating innovative new products while maintaining the ideal wine balance and fruit expression (sweet spotting).
Four Feathers also offers unique products such as Intensify, a winemaker's secret weapon to build color intensity, depth, and complexity in finished wines. Made from estate Cabernet Sauvignon grapes, this unique additive helps mitigate issues of vintage variation, underripe fruit, and the effects of wine remediation treatments.
- Packaging
Four Feathers Wine Services has a dedicated packaging facility and warehouse that features a Bertolaso Unibloc bottling system, the industry's gold standard of bottling lines, and a custom-built Codi canning line.
The facility provides a variety of multi-packing options, rework capabilities, a 58,000-square foot, temperature-controlled storage area for case goods, and a large shipping area with multiple loading docks.
The company's packaging team supports customers by solving challenging packaging and shipping issues such as formula submissions, COLA compliance, material procurement, and logistics.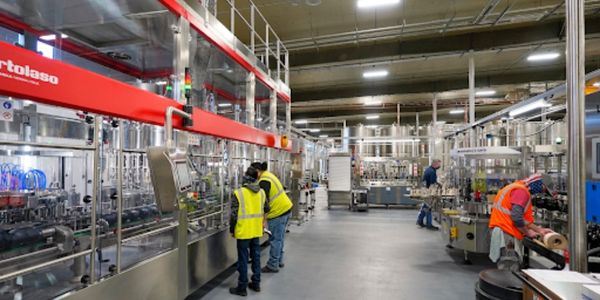 Four Feathers Wine Services Bottling Line
Four Feathers private label and control label services
Four Feathers offers private and control label programs that enable clients to quickly and easily bring exclusive wine and beverage brands to market. Clients leverage estate vineyards, state-of-the-art production services, and an experienced team to create high-quality brands tailored specifically for their customers.
Private and control label clients are in control from the start, making decisions on all aspects of the brand. Through these services, clients have exclusive control over how the brand is marketed, presented, and priced.
Additionally, Four Feathers is one of the few manufacturers in the United States to offer sparkling wines made using the conventional process for private label customers.
[[relatedPurchasesItems-49]]
Four Feathers' Studio services
Four Feathers Wine Services' Studio is a unique program designed for clients looking for the next level of custom bulk wine.
Some bulk-wine clients want custom wines of true distinction. The studio is designed to address that need by offering clients vineyard-designate, barrel-aged wines from the very best blocks of the company's estate vineyards.
The Four Feathers' winemaking team collaborates closely with Studio clients to create premium, barrel-aged wines at scale. Together, they craft custom bulk wines for small and mid-sized wineries seeking a boutique, high-tier program of bulk wines.
Conclusion
Four Feathers combines a century of agricultural heritage with estate vineyards, state-of-the-art production, and packaging facilities, and an experienced winemaking and support team to consistently produce award-winning wines in large or small quantities. The Four Feathers team collaborates closely with clients to help bring these individual visions to reality.