ADRIATICO — A New Generation Of Amaretto Liqueur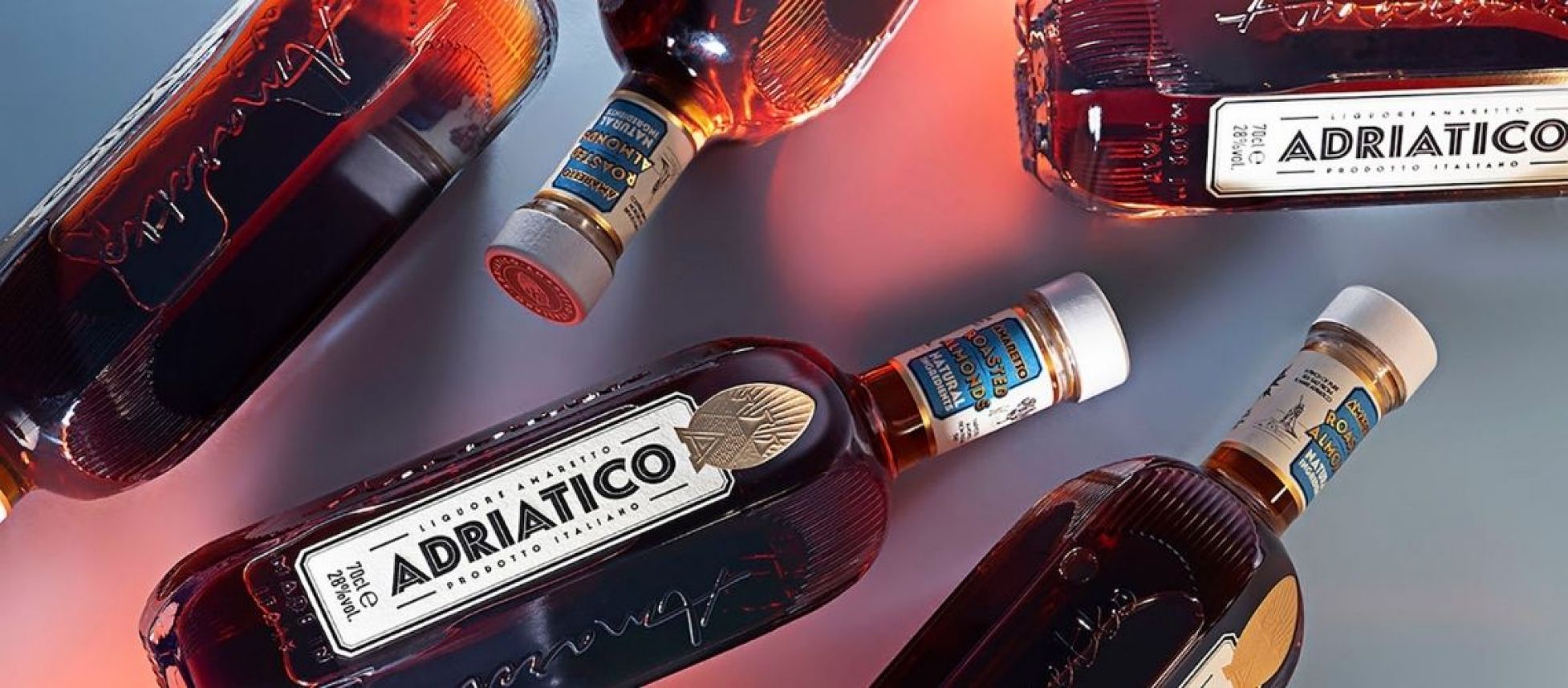 A chat with Co-founder Jean Robert Bellanger where he shares the story of Amaretto Adriatico, an Italian liqueur made with the best Italian almonds.
11/05/2022
The story of Adriatico began when its two founders, Jean Robert Bellanger and Thomas Benoit, decided to create a rich amaretto liqueur with high quality products to celebrate the true Italian flavors. In this interesting conversation with Jean-Robert Bellanger, he takes us through his journey and challenges to create a successful brand and business. Jean wanted to keep the spirit of his childhood alive and in his search for one, he created Adriatico. Adriatico is made with the best Italian almonds in Puglia, 100% natural and vegan ingredients with a pinch of sea salt from the Adriatic Sea.
[[relatedPurchasesItems-49]]
1. Can you tell us a little about yourself? What inspired you to create Adriatico?
My mother used to cook tiramisu at home with a pinch of amaretto to soak the biscuits. Later I became passionate about this liqueur and had been in search of a less sweet, more natural, and almond-based amaretto for years. Not able to find one available in Italy, I decided in 2017 with Thomas Benoit my long-time friend and now co-founder to create our own. Many vacations spent in my in-law's vacation home in Puglia convinced me that it was the right area and territory to create a new generation of amaretto liqueur. The best Italian almonds are produced there, the "Filippo Cea" an exceptional quality almond that is dry, small, and very tasty. These almonds are hand-picked in the countryside of Alberobello.
2. As the Founder of Amaretto Adriatico, what does your day look like?
With Thomas, days look like any start-up in the spirit industry. Finding the best partner for the production and the raw material. Finding importers and distributors. Organizing our presence at fairs. BCB 2021 has been such a success for us this year. We are going to participate in the Roma Bar show, Lisbon Bar Show, Mixology Experience and BCB again, and TFWA in Cannes. We have begun to travel again a lot to meet our wholesalers and importers, and cocktail bar owners all over Europe. Adriatico is now distributed in almost 30 countries so the roadmap is quite large.
3. Amaretto has a rich history and connection to Italian culture. How do you maintain the authenticity and the quality of a classic amaretto in Adriatico?
Yes, the heritage is huge and we definitely wanted to be part of it but with a twist on the recipe and communication. We absolutely wanted to bring back the almond in the recipe. Apricot kernels or aromas have been mainly used to lower the cost to produce mainstream amaretto in recent decades. We wanted to bring back an original "Marzipan" fragrance but of the finest quality. The twist is that we roast the almond, make a distillate out of it (unique in a liqueur), and make an infusion of cocoa, cinnamon, and coffee. And the secret is the pink sea salt that we source in Puglia, coming from the "Margherita di Savoia Adriatic" sea. It gives a final crunchiness to the amaretto.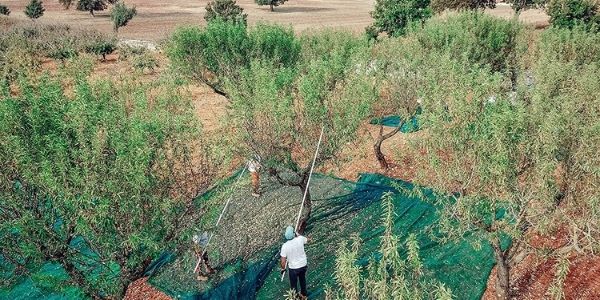 Handpicked Almonds; Image Source -AmarettoAdriatico
4. Can you tell us a bit about your production process? What kind of ingredients do you use?
To add to the previous description, our Bianco "White Crushed Almonds" amaretto is unique. It is made with white crushed almonds and an infusion of vanilla. No cream or milk is added. It is vegan certified. Only almonds that have a very silky note are used and it has a low 16% ABV. Our idea was to bring back amaretto to the forefront of the aperitivo and this product is unique and reaches this goal. It is very refreshing when mixed with crushed ice and with a zest of lemon. And in a cocktail with tequila, for instance, to make an "Almond Margarita", is an absolute win.
5. Can you tell us a bit about your quality control mechanism? How do you make sure that the quality is consistent throughout the years?
Every year our production plant in Puglia undergoes all possible control checks in order to get the best quality possible. We can show that for instance, the plant is certified UNI EN ISO 9001 & 140012015, plus it owns a BRC certificate. We use a laser-controlled bottling line and labeling machine, and the plant looks more like a laboratory than a craft Italian atelier.
6. What's unique about Adriatico? Can you take us through the different styles of Amaretto produced by Adriatico?
One of the main goals was to reduce the sweetness of the amaretto range. To make Adriatico, we use half the sugar concentration compared to traditional amaretto, using raw cane sugar and natural ingredients. Both products are vegan certified.
7. How important is Marketing and PR according to you? What do you think are the best marketing strategies for Adriatico?
Of course, we need to let people know that a new generation of amaretto liqueur is available and we want to communicate it our way, the way we live. And now we have a chance to do that as Puglia is a very stylish and trendy destination for tourism that helps in marketing. Puglia offers beautiful landscapes, food, the Adriatic sea, people, and Masseria and Trulli. It is such a postcard! And also the most important thing is organizing tasting sessions. Many people love amaretto in general but it is often seen as a digestivo instead of an aperitivo or a low ABV cocktail. We organize tastings sessions in locations such as Eataly department stores, Harvey Nicholas, Le Bon Marche, and La Rinascente in order to give Adriatico's taste to consumers and the result is truly amazing! We get a lot of incredible feedback and sales.
8. What role do you think Distributors and Retailers play in the development of a brand? How do you work with them to innovate, expand and push sales?
Distributors and retailers are the key! You could produce the best spirit in the world, but if your distributors, wholesalers, or retailers are not convinced, and neither has tasted your products, they won't become your local ambassador. They need to be trained, to know the DNA of the brand, who is making it, and for what purpose. Our main goal is to meet with most of them and spend a tremendous amount of time on the field. One week we are in Holland visiting retailers such as Sterk, cocktail bars like Salmuera, the best hotel bars like the W Amsterdam, and then a fantastic restaurant group 3WO. Next week we are in London to work on the field with our new distributor Indie/Amber UK and then flying direct to Lisbon for a bar show. Our best ambassadors are our distributors and retailers and our clients.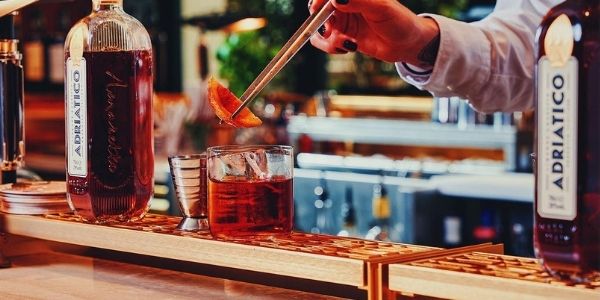 NEGROTTO; Image Source -AmarettoAdriatico
9. What challenges did you face initially while creating Adriatico and how did you overcome it? What advice would you like to give to young entrepreneurs who are coming up with new spirits brands?
We faced many challenges, and since we did not come from this industry, it was very challenging to first find an almond producer who agreed to sell his product to an unknown company. These almonds in Puglia are like gold. And then cracking the recipe was also a challenge. It was difficult to find the right way to toast and infuse almonds. But we finally decided to make a distillation process that was not planned at first. We tested many recipes with many producers in Italy and finally found the best liquorist in Puglia by chance.
As for advice I would say be different and do not be afraid to test things that seem crazy to the "specialists". Try, fail, and start again. It is a real rollercoaster. Do not listen too much to the experts, they will reply to you with data, statistics, and depletion numbers and not with the heart. Only your passion will help you to create the best product and then later convince your clients.
10. Finally, what are some of your favorite amaretto cocktails?
It usually depends on the season, but my all-time favorite is the Amaretto Sour — a splash of bourbon or dark rum and Adriatico Roasted Almonds which gives a salty final. With the Bianco, for this summer it is definitely the "sweet & bitter" called Louboutin, it is a mix of Bianco Amaretto Adriatico and red bitters. They are easy to make and are incredibly refreshing.
Interview by Prithvi Nagpal, Editor & Sommelier at Beverage Trade Network