Meet Corentin Chon - The Mind Behind Vinifyed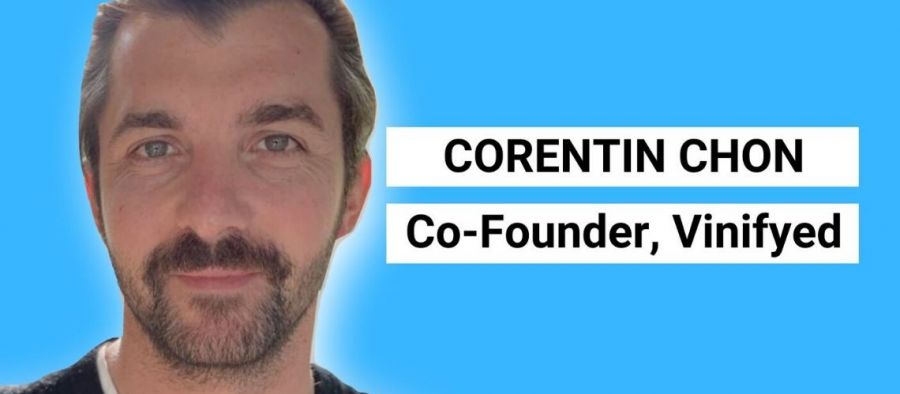 In conversation with our Editor is Corentin Chon, Co-Founder of Vinifyed.
21/11/2019
Technology is seeping into all the cracks and curves of the world, and the world of wine is no exception. Technology is slowly climbing the grapevine and finding its way in the wine industry.
Editor in Chief of IBWSS SF sat down with Corentin Chon, Co-Founder and Chief Operating Officer at Vinifyed. Chon shared the ins and outs of Vinifyed and its journey and spoke about the future of the wine and tech industry merging together.
1. Tell us a little about Vinifyed
Vinifyed understands your refined preferences and matches them to the right wine. It's easy. Save your taste on the app (or rate a few wines that you try). Then, when you're looking for your next bottle, simply take a picture of the label and Vinifyed will do the rest. It instantly calculates the "matching percentage" of the specific wine, based on your taste. The app goes even further. It helps you understand why you liked or will like each wine. Is it because of its dryness, body, varietal, aroma, or acidity? This will all become much clearer to you as you grow your profile. Vinifyed has even incorporated suggested recipes and playlists to offer you the perfect pairings.
2. What was the inspiration behind Vinifyed?
Vinifyed was created by a group of wine industry professionals and aficionados after analyzing a growing industry problem. The wine and spirits industry has neglected the influence of digital on its market and is now disconnected from its consumers.
Consumers are left with little to no guidance and need to rely on subjective user ratings that take the focus away from the actual product.
3. How did you get started with the project?
We started Vinifyed in January 2017. The very first theoretical model of Vinifyed was only based on connecting wine consumers to wine producers. The idea was really to enhance the consumer experience and strengthen the bond between producers and their audience.
Virtual Reality was trendy at that time and we thought that offering VR visits of wineries to wine consumers would be great. We quickly realized that the VR approach was very limited and hardly scalable. We went back to the drawing boards and realized that our focus, from the start, was to connect winemakers to consumers and that we had been missing the most important part: the product itself.
We then went through a long R&D process and ended up with our own taste matching algorithm and this new platform to match wines and consumers by their taste. Wine curious would use Vinifyed to search for wine that matches their taste. After building their taste profile a simple picture of a wine bottle would give a percentage match to the user and help them finding their next best wine. Very similar to what Tinder offers to find your next best date! In the back end, producers create 100% of their profile and can communicate their brand identity to users and increase customer loyalty.
4. What were some of the challenges you faced while starting Vinifyed?
Data was one of our biggest challenges and is still today. The wine industry is so fragmented. On the production side, more than 160,000+ brands of wine and spirits in the world - a lot of them are mid-size family-owned. On the distribution side, especially if you look at the US, there are a lot of tiers involved in the distribution of the final product. One of the problems created by this fragmentation is the inconsistency of the data. In order to tackle this issue, we very quickly worked on the implementation of artificial intelligence in the back end. Today we list more than 100,000 wines in the database.
5. What made you look at the app and think "yes, this is going to work"?
Very early stage Vinifyed was approved by wineries validating the need for a platform to connect them with their consumers. This is actually how we received part of our initial funding with several wineries sponsoring our project. This was a great first milestone telling us "yes, we are on the good tracks". Later on, we showcased the platform to major industry players, such as Wilson Daniels, a national importer based in California, and other importers and distributors and again, Vinifyed was really praised as a real need from the industry. We are now partners with multiple distributors across the country. Vinifyed is a real source of producers's information for all of them. That was a second milestone, validating us in the eyes of importers and distributors.
Last but not least, consumers! People were extremely positive in their feedback validating our concept as well as the user experience. I remember once a person getting back to us and saying: "I used to only drink New Zealand Sauvignon Blanc but now I realized that I love Sancerre and Bordeaux Blanc too!" This type of comment is very common and really drives us. We love helping people explore new wines! !"
[[relatedPurchasesItems-49]]
6. How did you go about marketing your app?
At this stage, we are mostly self-financed, and most of our income goes towards development to improve the quality of our platform for our clients and users.
Our marketing has remained, for the most part, organic through our website, blog, and social networks. We have a great follower base of more than 40,000 people with Instagram as our most effective platform.
We are planning on launching a marketing campaign and are actually starting a crowdfunding campaign later in November to finance it. The money raised will be invested in user acquisitions targeting the New York metropolitan area specifically. New-York is a very strategic place in terms of global wine consumption.
If you are interested in taking part in the Vinifyed project, you can contact us directly corentin@vinifyed.com
7. According to you, who is Vinifyed's competition, and what makes Vinifyed different than that?
Vivino has been leading the wine app industry for a while now and has actually done a great job in helping users to keep track of all their wines. Wine-Searcher, of course, is also a great resource for industry professionals. There are quite a few other apps and tools out there and most of them have an interesting take on the industry.
What we designed with Vinifyed is actually quite new as we are connecting the wine and spirits makers directly to consumers and this is our main competitive advantage.
Having the information directly from the makers allows us to make recommendations based on reality and not just assumptions.
By connecting the two ends of the spectrum we are also able to make recommendations based on something that had been forgotten by consumers: the taste; which is actually the main component of your experience when drinking wine.
8. How is vinifyed making a difference to the wine app industry?
Vinifyed is refocusing the wine buying process on the product.
By connecting winemakers directly to their consumers we are re-shaping the industry and allowing them to evolve past the rating system which in terms can be damaging for consumers as well as for professionals.
We are all unique and have unique palates, if I don't appreciate a wine, it does not mean that you will not. Refocusing the industry around the taste is key to its evolution.
9. What do you think is the future of wine and technology?
The wine industry is way behind in terms of digitalization, especially in ways of addressing consumers and empowering brands. Only a few brands now are aware of the new horizons digital solution can offer but many producers are still reluctant to invest in a solid digital communication strategy. In 2019, 4 billion people were connected to the internet in the world, half of them using mobile devices. 1 american household out of 2 is a Premium Amazon subscribers and 2 billion people in the world use Facebook as a source of information.
This means that almost anywhere in the world someone is one click away from your products and one click away from purchasing it. This is why ensuring the quality of information of your brands on digital media is essential and should be a priority for any brand. Then, technology is limitless, so is there a limit to enhancing consumer experience?
Vinifyed is available in web format at www.vinifyed.com and iOS version on the AppStore.